7 Best Niches for Affiliate Marketing in 2024
Marketing | September 25, 2023
Affiliate marketing is a bit like a two-sided coin. On one side, it gives you the amazing freedom to work on what you love in the comfort of your home and earn money from it. But on the flip side, if you don't get it right, it can feel overwhelming.
According to the latest affiliate marketing statistics by Demand Sage, 95% of new affiliate marketers fail and quit. That's why understanding the art of choosing the best niches for affiliate marketing plays a crucial role. It's the stepping stone that defines your further success. 
If you're new to this online business model or looking to expand your niche selection, you're in the right place. In this article, we'll help you navigate the art of choosing the perfect niche for your business. We'll discuss essential considerations for niche selection and explore some of the most profitable affiliate marketing niche options available.   
Why Choose a Specific Affiliate Marketing Niche?
Your niche is the foundation upon which you build your entire affiliate marketing strategy. It determines the products and services you promote, the audience you'll target, and, ultimately, your potential for earning commissions. 
A well-chosen niche should align with your interests and expertise. This ensures that you're catering to a specific group of people who are genuinely interested in what you're promoting. 
With such a targeted approach, you can increase your chances of conversions and profitability. Additionally, the right niche can help you stand out in a crowded market, establish yourself as an authority, and build a loyal following.  
Key Factors to Consider When Choosing Your Niche
When it comes to choosing the right niche for affiliate marketing, several key factors should shape your decision. 
Passion and knowledge
Affiliate marketing requires creating a lot of content related to the products and services you promote. Is there a field you're particularly interested in? 
If the chosen niche aligns with your interests and expertise, you're more likely to know how to choose and promote the products/services in a way that provides the most value to your target audience.
The more you know about the niche, the easier it's going to be to connect with your audience in an authentic way. 
Market demand
Research the demand for products or services within the niche you're considering. Tools for keyword research like Google Trends, AHREFS, and SEMRush. can provide insights into the popularity and growth potential of your niche.  
Niches with a healthy balance between demand and competition are attractive, especially if you're just starting out. They offer the opportunity to tap into a sizable customer base while still having room for innovation and market differentiation.
Target audience
Take time to research and understand your target audience's needs, preferences, and pain points.
A brand that's able to address specific problems and provide valuable solutions to a well-defined audience is more likely to raise its credibility and earn the audience's trust. And once this is achieved, it's more likely to generate loyal followers and more conversions. 
Competition analysis
Analyze the competition within your chosen niche. While some competition is healthy, an oversaturated market can make it challenging to establish your presence. 
The lower the competition is, the easier it is for you to carve out a unique selling proposition and establish a better market positioning.
Affiliate program availability
Ensure that there are at least several affiliate programs or products/services to promote within your niche. Research and identify reputable affiliate programs that offer competitive commissions and support to affiliates. 
Long-term viability
Think about the long-term potential of your chosen niche. Is it a passing trend or something that can sustain your affiliate marketing efforts for years to come? Look for niches that have long-lasting potential.
So before you even start, make sure to do your homework. Spend some time doing analysis and market research. Yes, it might seem like you're not getting anywhere at first, but it'll be worth it in the long run.
When you really understand your niche, your audience, and the market as a whole, it'll help you set goals that make sense and have realistic expectations. Plus, it'll give you a clear idea of the monetization possibilities of your affiliate marketing niche.        
The Ultimate List of Profitable Affiliate Marketing Niches in 2024
Based on specific industry trends, as well as some of the latest affiliate marketing statistics, we've compiled a list of lucrative niches worth considering in 2024. 
Let's explore them.   
1. SaaS and Technology
It's no surprise that this niche ranks among the top of the best affiliate marketing niches. Technology is an integral part of our daily lives, influencing almost every aspect. With the rapid development of new tools and trends, you should never be worried that it will become outdated in years to come.  
As an affiliate marketing niche, it involves promoting Software as a Service (SaaS) products, tech gadgets, software applications, and related services to a tech-savvy audience.
When a new technology or software comes out, it often inspires people to develop even more new things. This gives you many options to choose from. 
Audience:
Businesses in need of efficient tools

Tech enthusiasts interested in the latest tech innovations

Students and professionals that operate in tech-related fields
Products, services, and expected trends: 
The range of available products or services evolves constantly in this niche. Here are the current trends that are expected to continue being popular:
Cybersecurity software

AI-based software and products

Tech gadgets and accessories
Financial potential:
The tech and SaaS industry has marked consistent growth during this last decade. It's predicted that the market will be worth 232 billion USD in 2024.
The average commission range of SaaS products in 2022 varied between 5% and 30%. CHEQ Essentials's affiliate marketing program, for example, offers a 25% commission for its affiliate partners.
Take advantage of this niche with one of the leading cybersecurity solutions on the market.
2. Health and Wellness
It seems like COVID-19 has made people much more health-conscious. Some recent trends show that visits to fitness locations were up 9% in January 2023 compared to the same month in 2020.      
We can see this positive shift in people's habits related to fitness, nutrition, and well-being. This, of course, impacts their spending habits. 
As a niche that is seeing an uplift in the demand for health and wellness-related products and services, it has relatively high competition. It's quite an attractive arena for affiliate marketers recently.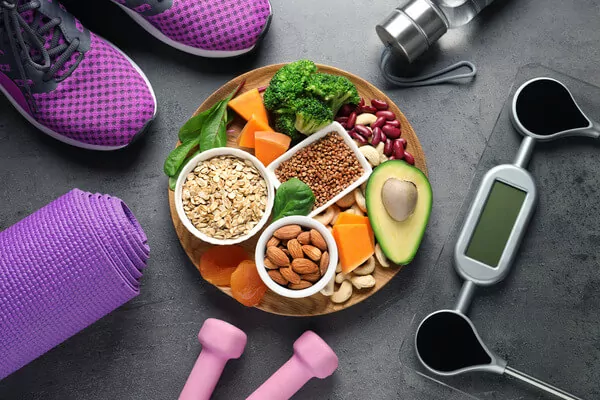 Audience:
Health-conscious individuals

Fitness enthusiasts

People with chronic health conditions

People facing mental health challenges 
Products, services, and expected trends:
The health and wellness niche encompasses a wide range of products and services. Here are the top ones for 2024:
Exercise Recovery (infrared saunas, cryotherapy chambers, and cold tubs)

Vitamin supplements (non-GMO or vegan products)

Spiritual well-being (mindfulness, breathwork, or martial art-related products or apps)
Financial potential:
In 2020, the global wellness market was valued at 4.37 trillion USD. It is expected that this number will increase to nearly 7 trillion USD by the year 2025.
3. Personal Finance
Personal finance is another profitable affiliate marketing niche whose popularity seems to be increasing year over year.
It revolves around promoting financial products and services that help individuals manage their money effectively. This includes budgeting tools, investment platforms, credit cards, and financial advice. 
To excel in this niche, as an affiliate marketer, you should stay updated on financial trends, provide valuable financial tips, and emphasize the importance of responsible financial management. Building trust through transparent financial advice is key, so if you have a financial background or some in-depth knowledge within the sector, you already possess the biggest advantage.  
Audience:
People seeking to manage their income better

Individuals interested in investing

People with debt 
Products, services, and expected trends: 
If you're looking to explore this affiliate marketing niche, here are some product or service inspirations: 
Budgeting apps

Investment and trading platforms

Cryptocurrencies and blockchain technology

Financial education courses or e-books
Financial potential:
The earning potential from this niche can be quite substantial and appealing to affiliate marketers.
According to AuthorityHacker, the more lucrative affiliate marketing programs offer between $50 and $100 for each lead generated through you. 
4. Education and E-Learning
Education, and especially E-learning, is another sector that marked a significant increase post-pandemic. 
The online education market size is forecasted to reach 53.13 billion USD by 2027. This is an astonishing growth compared to the 8.4 billion USD in 2020. No wonder it's considered one of the best niches for affiliate marketing in 2024.
To thrive within this niche, it's essential to create highly motivating content for potential students and adults alike. This content should inspire them to pursue continuous learning, personal development, and growth in the specific areas related to the products or courses you promote.
Audience:
Students aiming to deepen their knowledge and gain needed skills

Adult learners looking to upskill or reskill themselves

Businesses looking for training and development programs for their employees
Products, services, and expected trends:
There's a wide spectrum of educational materials and online courses available. There's almost no area in which you can't find online courses. From cooking to rocket science, anything can be learned online. Some of the ones with the highest demand now are:      
Tech skills (programming languages, data science, cybersecurity, blockchain, cryptocurrency, etc.)

Business and management skills (marketing, project management, HR, etc.)

Creative arts and design (3D modeling, UX/UI design, video editing, etc.)

Personal development (communication, public speaking, leadership, etc.)
Financial potential:
Affiliate marketers in the education and online learning niche are earning an average monthly income of $15,551. With the predicted 30.15% CAGR (Compound Annual Growth Rate), as stated by BusinessWire, it seems like the earning potential will keep its positive trend in the following years.
5. Travel and Adventure
The travel niche is a great affiliate marketing niche for those looking to earn money online while traveling the world. "Travel is all I do for a living." Who wouldn't admire such a profession?  
Well, if you're a travel enthusiast, you can make it yours as well if you put some effort into it. 
There are attractive affiliate marketing programs that can help get you started. 
You don't have to necessarily travel to each place you talk about to become successful in this niche. Just focus on creating good quality content that resonates well with the places you promote and your audience, and you can also enjoy travel and adventure as your full-time job. 
Audience:
Families looking for travel experiences that are fun and educational for the whole family

Couples interested in romantic and memorable travel experiences

Budget travelers looking for affordable travel options without sacrificing quality

Digital nomads looking for comfortable places with good internet access that won't affect their work day.
Products, services, and expected trends:
Some popular products and services in the travel and adventure niche include:
Hotels and accommodations

Travel apparel and accessories (shoes, suitcases, headphones, backpacks, etc.)

Travel insurance

Tour packages

Transportation rentals (bikes, motorbikes, cars, etc.)
Financial potential:
As consumers increasingly turn to online resources for their travel planning, the travel niche opens new monetization opportunities for affiliate marketers. An average affiliate marketer in this niche earns $13,847 monthly income.
6. Parenting and Childcare
The kids who grew up with the internet in its heyday are becoming parents now. And for most of them, online shopping is the first choice. It makes perfect sense why it's among the top of the best niches for affiliate marketing now.  
This affiliate niche focuses on promoting products and services that cater to parents. It offers diverse and extensive options, from apparel and clothing to parenting courses and books, etc. This makes it an appealing choice for an affiliate marketing business. 
For a successful online business in this niche, your main priority should be helping parents and caregivers with expert advice related to caring about children at any age. 
Audience:
New parents eager to learn everything about parenting and childcare

Working parents interested in products and services that can help them balance their work and family life

Stay-at-home parents looking for ways to save money on parenting and childcare

Parents of children with a disability, facing unique challenges
Products, services, and expected trends:
This niche offers a wide array of products and services, including:
Baby products (baby strollers, safety products, skin care products, baby monitors, etc.)

Parenting books and courses

Educational toys

Digital tools for child development tracking
Financial potential:
Raising a child takes a significant portion of one's family income. In a recent study, the U.S. Department of Agriculture (USDA) estimated that the gross cost of child care and raising would be $284,594. This includes costs covering anything from clothing, education, health, food, etc., for the period from birth through age 17. 
When it comes to affiliate marketing earning potential, in some of the top parenting affiliate marketing programs, the potential for earning commissions can vary between 10% to 40%.
7. Beauty and Fashion
This one is probably one of the most popular and profitable affiliate marketing niches that will never be outdated.  
The beauty and fashion industry is highly competitive. However, the fact that there is a constant demand for products or services related to fashion, beauty, or cosmetics still makes it a lucrative affiliate marketing niche. 
Another interesting fact about this industry is that influencers and video bloggers are the most preferred advertising channels, and brands are eager to partner with them. This leads to higher commissions for affiliates promoting such products.  
Audience:
Women. They are the primary consumers of beauty and fashion products

Millennials and Gen Z – the most active online shoppers

People who actively follow beauty and fashion trends
Products, services, and expected trends:
Here are some beauty and fashion products with high demand: 
Skincare products are always in high demand

Makeup

Natural beauty products

Clothing (plus-size fashion, gender-neutral fashion)

Fashion accessories 
Financial potential:
The earning potential in the beauty and fashion affiliate marketing niche is very high. The global fashion market is expected to reach 758.4 billion USD by 2025, and affiliate marketing is a growing channel for driving sales in this industry. 
When it comes to affiliate marketing earnings, the average monthly income for this niche is $12,475.
Maintaining Success with Your Affiliate Business
Now that you have a grasp of profitable affiliate marketing niches and how to pick the right one for your affiliate marketing business, let's focus on maintaining your business's success.
To ensure your continued success as an affiliate marketer, there are a few key tips to keep in mind.
Use the right platforms
First, make sure that you have optimal platform coverage. TikTok, Instagram, Pinterest, and YouTube all offer a range of advantages for reaching your audience. Be consistent with your content creation and posting on each platform you decide to be active on.
If managing content across multiple platforms feels overwhelming, consider taking it one step at a time. Start by establishing a strong presence on one or two platforms before expanding to others. 
Is there a specific platform or content format that drives good reach? Might be worth prioritizing what's trending.
And keep in mind that in today's content-saturated world, quality matters more than quantity. Your goal is to position yourself as an industry expert and gain your audience's trust. 
Protect your online presence
Another crucial aspect to be aware of is the presence of online threats. Automated bot activity is prevalent across the internet today. A recent study conducted by CHEQ and the University of Baltimore discovered that 27% of organic and paid traffic is made up of bots and fake users with fraudulent intentions.
To protect your affiliate business from such threats and ensure long-term success, consider utilizing a robust bot protection solution like CHEQ Essentials. 
Click here to sign up for a free trial and explore how CHEQ Essentials can protect your affiliate marketing business.
Consistency, consistency, consistency…
And remember, consistency matters. Keep an eye on the latest trends in the best niches for affiliate marketing and stay open to adapting. This isn't a secret sauce for success, yet many affiliate marketers forget this crucial step and miss out on ongoing success.    
Follow these strategies, and you'll thrive in the world of affiliate marketing.
FAQs 
Is affiliate marketing worth it?
Yes, affiliate marketing remains a profitable business choice even in 2024, and it's not slowing down. In 2021, the global Affiliate Marketing Platform market was worth $19,217.4 billion, and it's expected to grow to $36,902.1 billion by 2030.
It's a great option for both affiliates and businesses. Affiliates can earn a good income, and businesses can boost their traffic and sales without any particular effort by sharing commissions with affiliates.  
What is an affiliate marketing niche?
An affiliate marketing niche is a specialized topic or area on which affiliate marketers focus when promoting affiliate products or services. 
This specialization helps them stay focused on a specific target audience and create content tailored to their needs. 
Choosing a specific niche for affiliate marketing is important as you can narrow down your targeting efforts. This will help you promote your products or services, as well as target your audience more effectively. 
What makes a perfect affiliate niche?
A successful affiliate niche combines several key elements that make it well-suited for affiliate marketing success. 
First, you should select niches based on your area of interest and expertise. This will make it easier for you to create relatable content and build your reputation. You should also take into consideration the audience preferences, market demand, competition, profitability, etc. 
In fact, a good affiliate marketing niche is a balance between competition and opportunity, with profitable commissions or payouts for affiliates. And lastly, there should be accessible affiliate programs that you could join.