All About Google Maps Sponsored Ads
Marketing | August 21, 2021
Remember paper maps on vacation? Or trying to work out your route to meet a friend or heading for a job interview? Well, thanks to Google Maps, these are pretty much consigned to the bin marked 'relics from the past.'
Originally released in 2005 (feel old now?), Google Maps is used by more than 1 billion monthly unique visitors.
With this easy-to-use tool in our pockets, the world is just that much easier to navigate. You can find shops, restaurants, and services just around the corner that you might never have known about.
For businesses looking to stand out, you can, of course, run ads on Google Maps too. Promoted Pins for Google Maps was launched in 2016 but had a revamp in early 2021.
If you run a brick-and-mortar business, how can you make the most of Google Maps ads, and what do you need to know before you get set up?
How do Google Maps Ads work?
Ads on Google Maps are usually triggered by a search, either in the Maps app or a location-specific search on Google.
But there are a number of options to choose from which to include.
Local search ads
The main method for ads in Google Maps is the keyword-triggered search result.
For example, if you search for 'Hotel in Berlin' and you click on the Maps view, the top results are marked as 'Ad.'
On your mobile Google Maps app, a search for a specific service near you will also show a paid result at the top, as in this example for car dealerships.
Promoted Pins
If you want your business to display on the map, regardless of search, you would use Promoted Pins.
These highlighted pins show on the zoomed-in view of an area and are intended to stand out when a viewer is browsing the map.
The giveaway that they're Promoted Pins or sponsored posts is that they're square, as opposed to the rounded organic pins.
There are also two options. One is to use a branded thumbnail pin, as shown in the example below.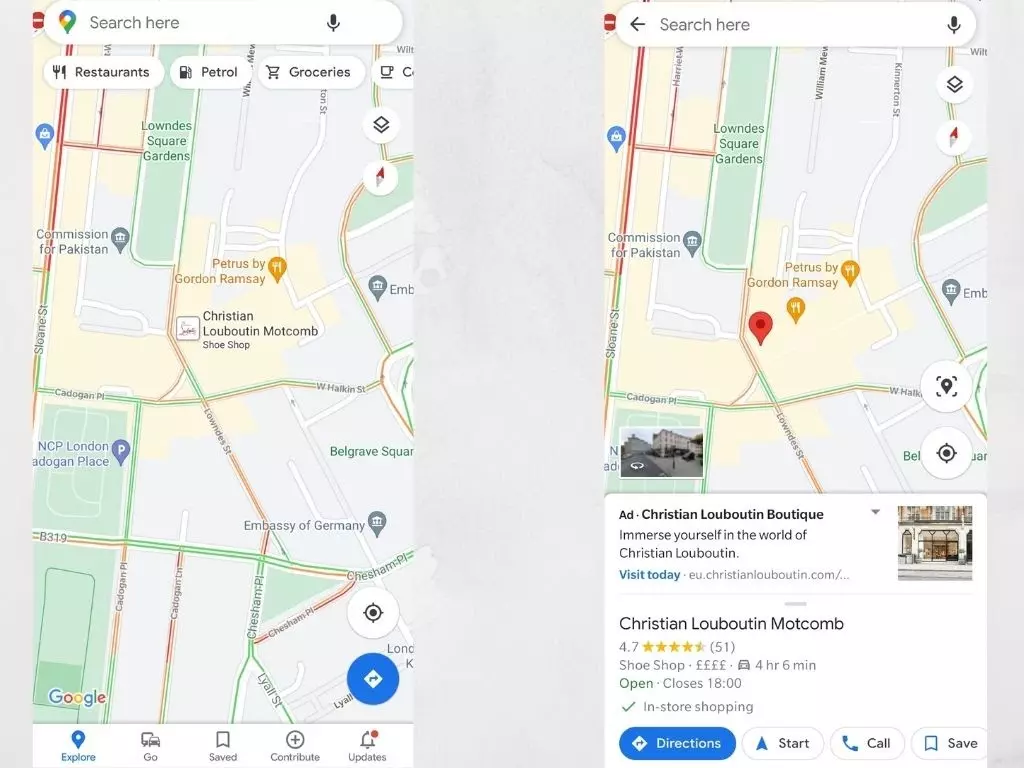 The other is to use a plain pin that simply highlights your business on the map, minus the branding.
For general businesses, you'll have a plain grey pin (as you can see in the example below):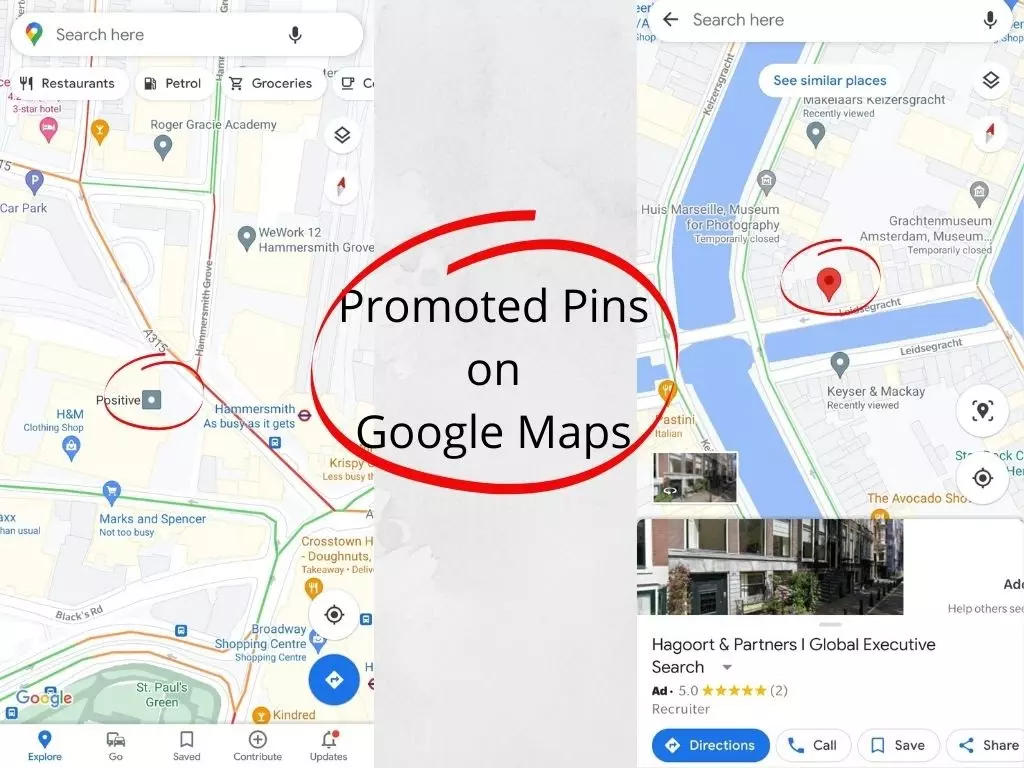 In the two examples above, the Promoted Pins are specialist services: A marketing agency in west London and a recruitment agency in central Amsterdam.
These might not be the type of businesses that you just 'drop in' off the street, but they might like to stand out to ensure that people looking for these specialist services consider them first.
With off-the-street businesses such as retail shops, restaurants, and bars, the pins are industry-specific.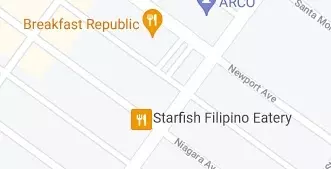 The icon is still the same, but the shape highlights a sponsored Google Maps ad, and if they're close together, the ad gets priority.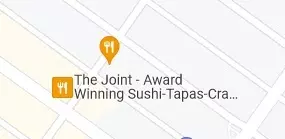 So, if you're in a competitive location, this might be a big benefit to using Google Maps promoted pins to stand out.
How to set up Google Maps Ads
If you'd like to promote your business on Google Maps, you'll need to make sure you have a few things in place first.
Create/update your My Business listing
To get started with Google Maps Ads, you'll need to have a My Business listing. Chances are that if you're running a brick-and-mortar business (or any business for that matter), you probably already have a listing.
Make sure it's up to date and accurate, with your correct address, opening hours, contact details, some quality images, and a nicely written description.
Add location extension in Google Ads
To get your business showing as an ad in Google Maps, you'll need to add the Location Extension in your Ads dashboard.
Head to the 'Ads and Extensions' tab on the right-hand column in Google Ads and find the 'Location Extension.'
You'll then need to find your My Business listing, which should be showing if you've set it up. And voila, you're ready to move on to…
Set up Location Targeting
Like all Google Ads, you'll need to optimize your ad to display when searched. This means you'll need to set up or use an existing campaign that targets searches in your area.
A good idea is to target searches within your city or zip/postal code, as you'll want people using Maps to find you when they're close by.
However, some businesses, such as tourism or those offering specialist services, may also want to display to searchers from outside your geographic area. For example, if people are researching their options before they arrive, you could flag them up as a consideration in advance.
An example of this is the hotel example we used above. Apparently, 86% of people looking to find a place to stay will research hotels on Google Maps first.
Additionally, 79% of people will research a business on Google Maps, which highlights the importance of having your ad on Google Maps in the first place.
In this example, I searched for yacht charters in Miami, which is a service that someone may be considering before arriving in the city from overseas. The top two results, as you'll see, are sponsored ads.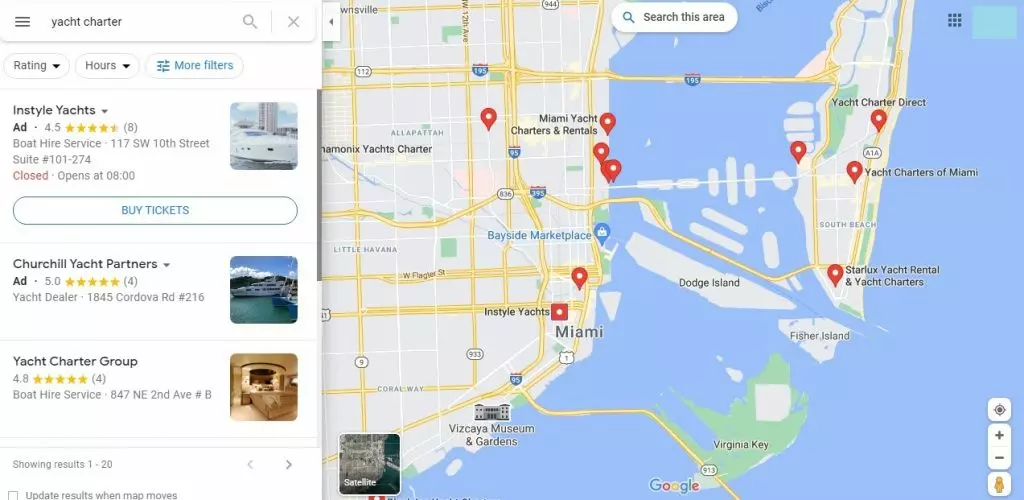 You may also have spotted that there is a nice, useful button marked 'Buy Tickets.'
So, if I'm planning to charter a yacht in Miami, I can simply click on the button to get the dates and prices and even book my excursion.
Manage your Bid Adjustments
With your Google Map ad set up, you'll want to do some tweaks to optimize those results. Using bid adjustments allows you to get a bit more granular and target people by area, device, remarketing lists, and even demographics.
Although a little fiddly, it's worth working on your bid adjustments to make sure your ads are seen by people in the right locations.
It's a whole other article in itself to write about bid adjustments, but here are Google's instructions on managing them.
Google Maps Ads best practice
Like all Google Ads, you can also customize and optimize your ads for the best experience.
To keep it simple, these are the best methods to ensure you get the best ROAS from your Google Map promoted pins.
Specify times for your ads to run, for example, around your business hours. It may also be beneficial for your ads to run an hour or so before you open.
Monitor the activity on your paid Google Maps ads and cut out the stuff that doesn't work.
You can also include ad extensions to your Google Maps Ads, such as the 'Buy Tickets' button mentioned above. If you have a special offer or want to display inventory, this can be added to help potential visitors decide if they want to visit.
Always use click fraud prevention, such as CHEQ Essentials, to block bots and other forms of invalid traffic.
Click fraud is an ever-present problem with any form of paid advertising online. It's been found to affect around 90% of all paid ads on Google, including Google Maps ads.
Whatever form of PPC ad you're running, run a diagnostic with a free trial of CHEQ. You'll be able to see the volume of bot traffic, repeat clicks from suspicious sources, and get an insight into the search terms that trigger the highest volume of non-genuine clicks.
Find out more about click fraud and ad fraud in our in-depth guide. (Short on time? Read the quick guide to click fraud detection instead).